Overview
Ryan International School, Sohna Road, Gurgaon was established in the year 2007 by Dr. Augustine F Pinto, Chairman of Ryan and St. Xavier's Group of school. The school has an eco- friendly environment with a huge infrastructure that is being upgraded further, spread over a sprawling lush green area of more than 12 acres, facing the Aravalis.
The vast variety and wide range of curricular and co-curricular activities provide an opportunity to every Ryanite to explore, excel and exhibit his / her skills and talent. This sets us a class apart from the other schools in our locality. We aim to create Global Citizens- Exemplary human beings, intelligent, confident, compassionate and well equipped to successfully tackle any situation in life.

We are the proud pioneers of Model United Nations and Math Mind in Gurgaon. ARMISTICE MUN is a simulation of the working of the United Nations and Math Mind is a unique event which includes various competitions for classes ranging from (III to X) in Mathematics. Both are special annual events of our school.
The BIFA- Brazilian International Football Academy is housed in our school premises where expert coaching is imparted to students to master the game of Foot ball. A very well maintained Swimming Pool and a stable with horses to impart lessons in Horse – Riding are outstanding features of Ryan – Sohna Road.

Vision

Our vision is to be a premier global educational institution which develops the human resource for our dynamic and expanding community, the state, the nation, the region and the world at large.

Through our institutions, we will cultivate all round development of qualities in a student through excellence in education that shall foster academics, understanding, brilliance, spiritual well-being, physical development, psychological strengths, resourcefulness and creative skills, social responsibility and concern for one's environment. Ryan Group has more than 125 institutions spread across the country and abroad. We are also working towards setting up our own Universities to continue the excellence in education that we are known for.

Mission

It is our mission to facilitate:

The development of global citizens - individuals with self-confidence who are able to contribute to community life, build tolerance & accountability and able to deal with emotional and spiritual quotients.
A student with knowledge, attitude, skills, social and moral values which enhances their personality development, physical and psycho-social capabilities which are effectively achieved through professional coaching in sports, creative and personality enhancement activities.
The delivery of curriculum by incorporating activities based on the Multiple Intelligences theory of Howard Gardner, professor at Harvard University that leads to literacy, inquiry, creativity, and critical thinking.

Quick Reference
Contact Information
Ryan International School,
Ryan International School
Opp. BSF Camp, Sohna Road
Gurugram
Pin Code - 122002
Tel : 0124 – 2266477
0124-2266577

Timings
Opening hours
Principal meeting hours08.00 a.m. – 2.00 p.m.
2.00 p.m. – 3.30 p.m.
Other Information
Year of Establishment - 2007
NOC NO. - 1885/GGN/12/bose/2010
NOC issuing date - 2010
The school is recognized by which Authority. - HARYANA GOVERNMENT EDUCATION DEPARTMENT
Affiliated To - CBSE
Affiliation No. - 530674
Status of Affiliation - Provisional
Name of Trust - ST.XAVIER EDUCATION TRUST(Reg no : E/9575/BOM)
Area of School Campus - 12 Acres
Area of Play ground - 9000 Sq. Mtr.
Transport Facility - Own buses :17 ,hired buses : 18
Particulars
Our vision at the Ryan Group is to nurture leaders of tomorrow. Through a careful selection of academic elements that include the development of the physical, mental and moral faculties, our learning experience has a holistic touch to it.
With more than three decades in the service of education, we have summed up our vision statement in these words, "Excellence in education and All-Round Development."

Facilities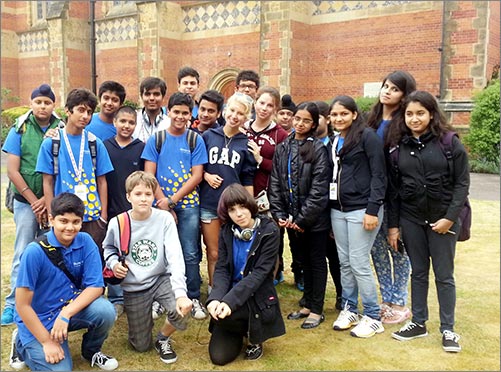 Co-Curricular Activities
INMUN Indian Model United Nations

ICFPA - International Children's Festival of Performing Arts

ICEPLEX a Ryan Media Initiative

BBN Beyond Breaking News - Journalism

NASA Educational Workshops & Programs

Social Service Teen Camp

Competitive Exams: ISO, IMO

Academic
Activity-based learning

Well equipped computer labs

Well maintained and updated library

Physics, Chemistry and Biology Laboratories

The challenge lies in utilizing the changing learning patterns and with changes in the methods of instructions compiled with technological advancements, to create an educational experience that will uphold our commitment towards nation building.

Sports
Training for Football

Basket and Handball ground

Indoor game block for Table tennis, Chess

Judo and skating

Active Participation in DSO, MSSA, MSDAA, AISM