Overview
Ryan International School, Vasant Kunj was established with an aim to provide 'Excellence in Education and All round Development'. The progressive environment at Ryan International School is an amalgamation of academics, theatre, art, debating, scientific engineering, cricket, roller hockey, swimming, tennis, community interaction and social sensitization, to mention only a few These myriad of activities are possible because it is the 'love for learning' that drives each endeavour that a Ryanite sets upon.

With a vision to create and nurture future leaders, we at Ryan International Vasant Kunj present Innovative education and All round Development. The Ryan Group of Institutions under the able leadership of the founder Chairman Dr. A. F Pinto and Managing Director Madam Grace Pinto has emerged as a fore runner among the top ranking schools in the country.

With years of excellence Ryan International School Vasant Kunj stands as a leader among the south Delhi schools offering its students a stimulating and extensive curriculum, state of the art infrastructure and a nurturing environment. The school's mission resolves to deliver high order modern learning, to ensure that each child has a safe, healthy, positively energizing, intellectually challenging, learning and enjoyable environment which is committed to engage students in active, collaborative and technology based learning methodologies in order to develop students with a strong global outlook. Through a well defined child centric learning environment, each Ryanite emerges as an individual with self confidence and a concern for the environment, sensitive to the community needs and stands as harbingers of change and peace around.

The development of Knowledge, Attitude, Skills, Social and Moral Values (KASSAM) personality development, Physical and Psycho social capabilities are effectively achieved through a well defined academic rigor, professional coaching in sports, creative and personality enhancement activities. The school provides diverse platforms both at National and International level that provide students with wider and challenging experiences. Our students have produced excellent results at the CBSE Board Exams. They have been placed in reputed institutions like IIT, NIIT, Medical Colleges and at International level.

Equal emphasis is given to liberal arts as we provide a variety of optional subjects knitting together certain challenging subjects with academic electives that would be prepare all intellectual variations to take on the world of work.

We also endeavour to develop our educators with an in-depth understanding of our mission, vision statement and philosophy. Educators are put through an induction programme, a series of orientation programmes and workshops to enable them to be well tuned to deal with the ever challenging and every dynamic classroom environment. A teaching pedagogy manual has been created, which is readily available for reference. The curriculum is developed on the basis of the NCF laying stress on practical learning objective.

Vision

Our vision is to be a premier global educational institution which develops the human resource for our dynamic and expanding community, the state, the nation, the region and the world at large.

Through our institutions, we will cultivate all round development of qualities in a student through excellence in education that shall foster academics, understanding, brilliance, spiritual well-being, physical development, psychological strengths, resourcefulness and creative skills, social responsibility and concern for one's environment. Ryan Group has more than 125 institutions spread across the country and abroad. We are also working towards setting up our own Universities to continue the excellence in education that we are known for.

Mission

It is our mission to facilitate:

The development of global citizens - individuals with self-confidence who are able to contribute to community life, build tolerance & accountability and able to deal with emotional and spiritual quotients.
A student with knowledge, attitude, skills, social and moral values which enhances their personality development, physical and psycho-social capabilities which are effectively achieved through professional coaching in sports, creative and personality enhancement activities.
The delivery of curriculum by incorporating activities based on the Multiple Intelligences theory of Howard Gardner, professor at Harvard University that leads to literacy, inquiry, creativity, and critical thinking.

| | | |
| --- | --- | --- |
| Sr.No. | Particulars / Details | Description |
| 1 | Name / Address of Website | http://www.ryaninternational.org/risvasantkunj/ |
| 2 | Name of Establishment | Ryan International School |
| 3 | Address of the establishment (Registered Office) | Sector C, Pocket 8,Vasant Kunj, New Delhi |
| 4 | Address of the Establishment / Branch Office where contract workers are to be engaged | Sector C, Pocket 8,Vasant Kunj, New Delhi |
| 5 | Nature for which contract workers are to be employed | Manpower-Transport,House Keeping & Bus Lady Attendants |
Quick Reference
Contact Information
Ryan International School,
Sector – C,
Pocket - 8 Vasant Kunj,
New Delhi – 110 070.
Tel : 011-26899089
011-26892822
011-26896973
Timings
Opening hours
Principal meeting hours
Weekdays
Working Saturdays 08.00 a.m. – 2.00 p.m.

2.30 p.m. – 3.30 p.m.
8.30 a.m. – 10.30 a.m
Other Information
Year of Establishment - 1991
NOC NO. - DE-50/F-1/11(110)Z-S-2/93/2604
NOC issuing date. - 18.06.1993
Affiliated To - CBSE
Affiliation No. - 2730239
Status of Affiliation - PROVISIONAL
Affiliation with Board since - 14.12.1995
Extension of affiliation upto - 31.03.2017
Name of Trust - ST.XAVIER'S EDUCATION TRUST, REGISTERED UNDER PUBLIC TRUSTS ACT (1950), Registered for a Perpetual period.
Name of Principal - Ms. Anuradha Sharma
Name of the Manager - Mr.Joseph Rodgrious
Transport Facility - No hired buses,Own buses 39
Particulars
Our vision at the Ryan Group is to nurture leaders of tomorrow. Through a careful selection of academic elements that include the development of the physical, mental and moral faculties, our learning experience has a holistic touch to it.

With more than three decades in the service of education, we have summed up our vision statement in these words, "Excellence in education and All-Round Development."
Facilities
Co-Curricular Activities
INMUN Indian Model United Nations

ICFPA- International Children's Festival of Performing Arts

ICEPLEX a Ryan Media Initiative

BBN Beyond Breaking News Journalism

NASA Educational Workshops & Programs

Social Service Teen Camp

Competitive Exams: ISO, IMO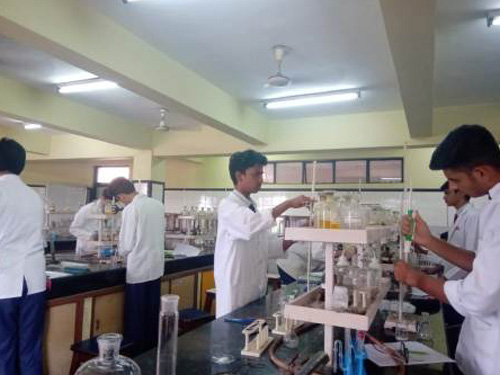 Academic
Activity-based learning

Well equipped computer labs

Well maintained and updated library

Physics, Chemistry and Biology Laboratories

The challenge lies in utilizing the changing learning patterns and with changes in the methods of instructions compiled with technological advancements, to create an educational experience that will uphold our commitment towards nation building.

Sports
Training for Football

Basket and Handball ground

Indoor game block for Table tennis, Chess

Judo and skating

Active Participation in DSO, MSSA, MSDAA, AISM